Other Books by Curt Weeden
Corporate Social Investing
Corporate philanthropy is on its way out. A new concept called "corporate social investing"—which requires that every commitment of money and/or product/equipment/land a company makes must have a significant business reason—is taking its place. The transition has implications to every business and nonprofit organization in America. This book provides the strategic plan for making the transition to corporate social investing. By following the practical steps described here, businesses and nonprofits can forge creative alliances that can boost corporate profits and at the same time provide added resources for schools, colleges, cultural organizations, civic groups, and other important charities.
Weeden's breakthrough plan, based on his innovative concept of corporate social investing, has the potential to dramatically change the way businesses and nonprofits interact. If widely implemented, it could substantially increase corporate support for nonprofits, turning the tide against cutbacks, offering profound benefits to businesses, and revitalizing the essential services nonprofits provide.
Buy Corporate Social Investing at Amazon.com or Barnes & Noble
How Women Can Beat Terrorism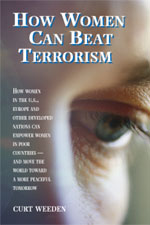 In How Women Can Beat Terrorism, Curt Weeden sounds an urgent warning: If the world stays on its present course, terrorism and conflict may take the lives of over 100 million people during the next three decades. Give women the opportunity and resources to combat poverty and hopelessness that help fuel terrorism and the gloomy forecast improves, writes Weeden.
A billion-dollar grant-maker who has worked for 30 years with international development organizations, corporations and foundations, Weeden concludes that in many poor countries, women are the pathway to a better quality of life—and to a future where terrorism becomes less of a threat. However, Weeden adds, empowering women in these poor regions of the world is not likely to happen without assistance from women in the U.S., Europe and other industrialized countries.
How Women Can Beat Terrorism presents a simple but compelling plan for helping billions of men, women and children living in poverty while at the same time making the Western world less prone to a multitude of deadly terrorist attacks.
Buy How Women Can Beat Terrorism at Amazon.com or Barnes & Noble